One less empty space
It is dark, but it must be time to get up. My muscles complain as I attempt to roll out of bed. I wander dazed to get a shower; I find my self dressed heading to breakfast. Dawn in the Ozarks, my photo proves it was pretty; I don't have any clear memories. I join the twelve eagerly awaiting devotions, breakfast, and getting back to work. Each of the twelve donating time, money, knowledge, and materials to help strangers; I am mostly donating presence. Everyone is eager to get going, as time is pressing. The need to leave something lasting is pushing everyone. If you ever find yourself in a similar situation trying to discern what is going on, you may be on a United Methodist mission project.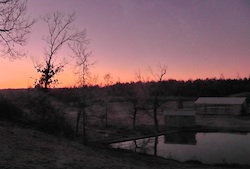 Fairview Center United Methodist Church and Pastor Gabe Wanck organized a mission trip to Joplin, Missouri, joined by some from Monmouth, Victoria, and Elmwood. The volunteers worked with New Creation Church and Home Sweet Homes USA the organizations in Joplin. Some of our group worked with the after-school program and other repair projects. The main construction project was to build a garage on an existing concrete slab. A couple, whose home had been blown on top of them in the May F5 tornado, had purchased a damaged home. Disabled and out of money, they needed assistance repairing it. They also needed a garage. Joplin is now a city of many vacant lots, damaged buildings, homes being rehabbed, and new homes. Joplin's Home Depot operates from a tent, as does their hospital, and an empty anchor store at a mall is now a school. Joplin has attracted volunteers, swindlers, and gawkers; they still need the volunteers.

Click to Read Next Page