A Life Fulfilling
What Makes Life Worth Living, Where Are You Most Productive
This is written to you who I do not know, but would probably like to meet. It is intended to spur you to evaluate your current life, your ideal life, and how you can reconcile the two. It is a discussion of time, so going full nerd: let's start with a Star Trek quote. Dr. Soran to Capt. Picard "They say time is the fire in which we burn. Right now, Captain, my time is running out. We leave so many things unfinished in our lives."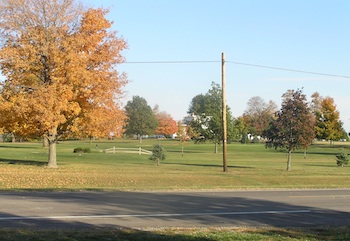 Maple Lane Country Club this Fall
I believe there are many people who know nothing of Elmwood, many who could not envision life in a "Mayberry of the prairie" as being of any interest. So before I could persuade you to come here and meet me and my fellow Elmwoodians, I will need to allow you to examine yourself and your current life. I would ask you to reflect on what you find satisfying - not too quickly. After all to reflect means to roll something over in your mind, and put it aside come back to it on another day. I know this style of mulling does not fit the current real time feed of social media, location checking, news updates, alerts; all part of the constant in touch modern world. I hope in moments, isolated from the constant drone of the day's feigned importance, you will find time to seek perspective to look at life's priorities. I can not explore what your reflections will reveal to yourself, so I will share what my own have revealed to me.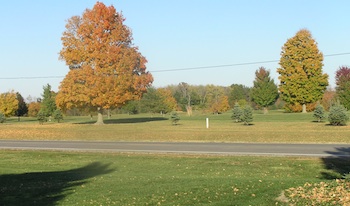 Maple Lane Country Club this Fall
Nothing is satisfying without the time to enjoy it. I am a history buff and a news junkie. At times I find there is nothing but rehash in the news. History is always enriching. History, the old dry stuff that never changes becomes more rewarding, than the ever changing, never changing, news cycle. A journey into history reveals human lives facing complex challenges, and often the solutions are tales that wouldn't be believed if they weren't documented as true. News becomes the substituting of Paris Hilton for Kim Karadashian as the latest report of scandalous behavior, presented in a most titillating manner. Yes, there is real news, but too often its reported superficially. Chasing the latest news becomes like a diet of junk food. Elmwood allows your life to become family history, not a mobile update.
Age does add perspective, so even though I have ignored the AARP, at some point I will have to accept senior citizenhood. (I haven't, yet.) In a world always repackaging itself to breathlessly proclaim being breaking news, eternal truths still hold. Relationships become the most precious jewels of our lives. Efforts we have made that were worthwhile, the most satisfying. Being able to know we have given something to the world while we could, the only comfort for our angst. (I won't delve further down that existential rabbit hole.) The time with family and friends, the time to work on what I find most rewarding, the feeling that the time I gave made a contribution: these are what satisfy. Time is the essential element in all of them.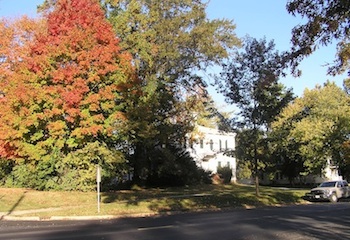 Fall in Elmwood
I would ask you to reflect on your time. Do you commute, how long? If you commute, then you commute home, so double the time. Your spouse may also have a career, so how long is that commute, double it, as well. If you add up all the commutes of your work colleagues, the total time will be significant over the years. If you own or are a partner in a business, time needs to be productive. What if you could walk with a colleague to work, jog or play a round of golf with a colleague, and still be at work at eight. Would it add productivity to your work time?
There is more to life than work, if your child is in a kindergarten play, can you go? If you could leave work and be back in thirty minutes, would you go? Coach the little league team and afterwards stop at the office to make sure everything is complete, without a loss of time. When you choose to contribute your time it would be with those you work with, people you are neighbors to, your child's teacher, your friends and family. This is what having a business in Elmwood allows, time. Time to build relationships in your own family, with friends, and neighbors. Time to work and be productive, time for that commitment to a worthwhile, life changing endeavor.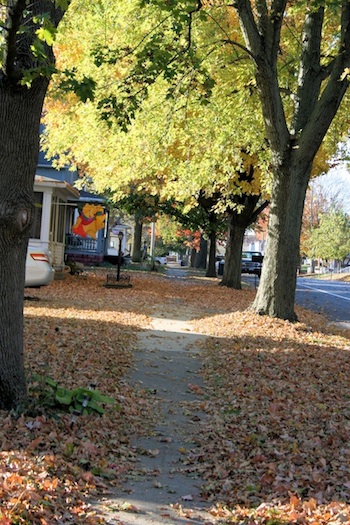 Fall in Elmwood
nerd alert 2, the sequel: In the same movie the time shifted Capt. Kirk, says to Capt. Picard "Did we make a difference?"
What does your business require? What would make it flourish? Office space, Internet connection, access to global transportation, what material things are required? What does a location require to be a home to your business? Again only you can answer those specifics. Every successful business has more than just material requirements. Material spaces are more or less the same. What less concrete more spiritual things are required?
These less definable factors are essential to success. Your well being, the well being of your partners, colleagues, and workforce are a part of your success. My wife supposedly is in the business of providing services to consumers, but in reality her job is to manage the people in the various states where the services are provided. The physical and mental health of all her people affect the productivity and efficiency of her company. Well being affects the bottom line of any business.
Enriched lives are more creative and productive. If your business can be described as a creative, collaborative enterprise, then the quality of the lives of your people will have a strong relationship to achievement. Living and working in an enriched environment, will foster a motivated, productive work force. If you have the time to cultivate relationships, time to be inspired by your family, nourish yourself with a local foods diet, exercise as simply as being able to walk to work, then you will have more time to enjoy the world around you. Life will offer chances to gain motivation and inspiration. Wouldn't it do the same for your colleagues?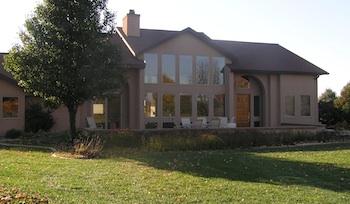 This home is for sale directly across from Maple Lane Country Club
In mulling and reflecting about what is important in life I offer a thought, home is a place not to sleep and prep for another day, but to find renewal. Elmwood makes a good residential home, and Elmwood makes a good business home. If your business needs concentrated time and focus, Elmwood allows the distractions of life to recede. The cost of living and owning a business here is much lower than where the majority of people work everyday, less in dollars, far less in hassle, less in time required for the mundane. In a quantifiable world less money and time required for basics means more time and money for life's rewards. So after your reflections on what is satisfying in life, I hope you see how life in a "Mayberry of the prairie" is as interesting and creative as you want it to be, a life with fewer distractions.
Out of the now seven billion in the world only the tiniest few will read this, of those who do, most will not be able to move to Elmwood. But in a small town like Elmwood it would only take a few to make a big difference in the long term prosperity of our economic climate. Living here one seems isolated, but that is a falacy. Elmwood is connected by rail and air to any place in the world. My wife leaves for Philadelphia in the morning, about thirty minutes from our home to the Peoria airport. A train to downtown Chicago would also be a thirty minute drive to an Amtrak station in Galesburg. To make it even easier there is free parking at both Galesburg and Peoria for travelers. The world is accessible, but doesn't intrude once you are home. I can assure you, when you are my age, (that is to say old) you will not regret missing a few of the trendiest spots. You will miss not seeing your children in the school play, on the football team, or playing together. You will miss the time to talk with your parents, enjoy friends, do something significant. Consider how you can arrange your life, make the most of your time, consider Elmwood.
Time is not the constant we think, we can make time our ally, our reward.
If after all your mulling and reflections, you have an observation to share email me, and I will share it.
I wrote this line last year in the Better Elmwood installment "Elmwood is a City for All Seasons, but it would be a great place to live even for just one day like this one." I expanded my scope, becuase life is usually not one day.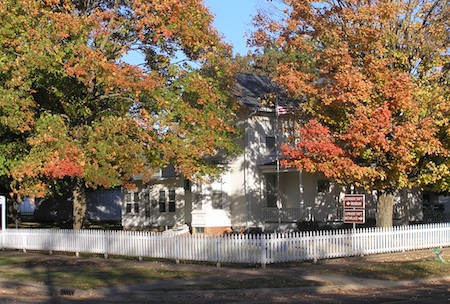 Lorado Taft Museum in Elmwood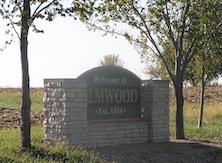 --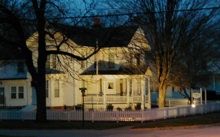 I want to bring the whole community together starting with a community web site. It will require an ongoing effort with many partners.
NY Times Editorial on Future Development
Steps to follow
1] You can join the facebook group
2] Send me an email with your thoughts
Questions or comments: email "The Steve"
3] Follow on Twitter @Elmwoodilorg
Elmwood In Touch
A new project to make Elmwood a better place to live, work, visit, or just be in touch.

Illinois Observer a thoughtful experience
Elmwood IL.org
603 W High ST
Elmwood, IL 61529