Key Issues Updated As Needed
Recovery Phase I is complete
The need for this page has diminished.
or Facebook at A Better Elmwood
State Routes IL 78 and 8
Resurfacing will commence on Monday, September 13th. Traffic will be controlled by flaggers.
City of Elmwood IDOT Grant
The City Council approved a request to IDOT for a grant to aid in sidewalk and green area improvement. Sometimes referred to as streetscaping. Wednesday, September 8, 2010 1:33 PM
State Routes IL 78 and 8
In town better known as W Main and N Magnolia will be resurfaced in September. Streets will be open to through traffic at that time, but of course slowed or periodically stopped by the road construction work. Wednesday, August 4, 2010 4:57 PM
Demo of Whitney and McGuire
buildings today. If you are going to take photos or just watch stay safe. Many of the barriers downtown have been moved to allow less congested travel, but many still remain. Use patience and common sense as we navigate the downtown and this crisis. Tuesday, July 27, 2010 6:08 AM
County Board Resolutions
It is often reported that building permit fees for Elmwood were waived, this is not completely accurate. Building permit fees will be on a case by case basis. Actually a demonstation of financial need will have to accompany a waiver of the permit fees. If insurance coverage was inadequate and there is a shortfall of money to cover fees, then a waiver would apply in such a case. Saturday, July 24, 2010 11:27 AM
Update on Meetings
Attended business owners meeting last night. On Thursday July 22nd a special meeting of the Peoria County Board. Topic Elmwood Recovery Plan fourth floor Peoria County Courthouse at 7:30 PM. Peoria County Web Site
On Tuesday a grant hearing held at the temporary City Hall by DCEO Department of Commerce and Economic Opportunity,Tuesday July 27th at 5 PM. Wednesday, July 21, 2010 2:06 PM
Save the Palace Fundraiser
Start Time: Saturday, July 24, 2010 at 5:00pm
End Time: Sunday, July 25, 2010 at 12:00am
Location: Woppers
2 bands and DJ First band starts at 5:00. No Access on at 9:00. This is a fundraiser for the Save the Palace Theatre fund. Come and help restore the Palace theatre. T Shirts available and proceeds go to fund. Have a great time and raise money for a great cause at the same time. We promise a few new wrinkles in the show for us!! Crank it up!! More info can be found at savethepalace.com. Event Page
Wednesday, July 14, 2010 10:30 AM
Community Relief Sale
Saturday, July 10th at Elmwood Grade School Gym enter from 501 North Morgan Street
8 AM TO 3 PM
Donations can be dropped off at the gym on Thursday, July 8th from 8-12 and 5 - 7; Friday, July 9 from 2 - 7.
Please all clean and usable items - No electronics.
All of the proceeds will go to the Restoration of Elmwood's Downtown Fund at Farmer's State Bank.
Verbal report not official; proceeds exceed $7300.Sunday, July 11, 2010 2:08 PM
Five Priorities of Economic Renewal
I have developed five priorities of economic renewal for Elmwood. Please read and enter a discussion on a Better Elmwood Facebook group or email and I will post on this web site.
Click Here to read the five priorities
Monday, July 5, 2010 1:37 AM
Planning Recovery in Downtown Elmwood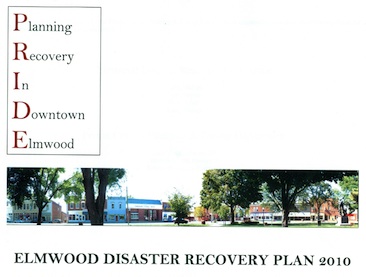 I have placed a pdf of summary recovery plan on server you can download it by Clicking Here. It was in landscape mode Adobe Acrobat should allow you to rotate image or you can print it off. It is a large file it will take a long time to download.
Printed copies are available to review at the library, and both banks. City council will follow with a vote; pending county board approval of plan on Tuesday. Full Plan
This an implementation addendum defining building specifications. Click Here much smaller file than plan. Thursday, July 1, 2010 4:52 PM
Elmwood July 4th Fireworks
fireworks at Sweetwater are planned to occur on the 4th. July 5th would be the rain date.

Results of Follow Up Survey
Follow up survey had 99 returns PDF File of survey below. Tuesday, June 22, 2010 9:13 PM
Results from the follow up Survey
Survey handed out house by house
A week after the Saturday tornado volunteers walked to every house in town trying to get a survey to everyone living in Elmwood. 323 were returned in time to be tallied here are the results. Survey Results ---
A follow up survey was conducted and again returned by Sunday evening 14 days + the tornado here is that survey PDF Image File --- Additional PDF File It is being compiled this week by the planning group at Peoria County Monday, June 21, 2010 11:49 AM
Building Permits at City Hall?
Building permits can be picked up at the Temporary City Hall on S Magnolia. Wednesday June 16, 2010 4:12 PM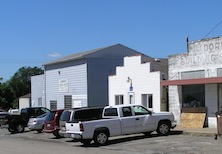 Update on Postal Mobile Unit
Elmwood postal worker must go to Farmington to assist in sorting mail in morning. Mobile unit opens after the worker returns usually about 11 AM. Unit will close from 1 to 1:30 and then reopen until 4 PM. U.S. Postal Service is really failing us here in Elmwood. There is no reason a clerk can not open mobile unit on the same hours as the post office in Elmwood ran before. This is all about saying they are trying to help and doing nothing that is actually helping. Send emails to USPS select choices and describe our issues. I went through email choices I have a case number for my request it is: HQ102304774. Copy it into your email; enough emails with references to the same case number may attract someone's attention.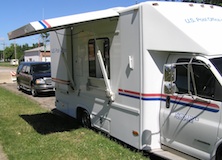 Downtown Maze
It is possible to negotiate your way to our open businesses in Elmwood. Please use caution and bring patience. Hopefully, situation will improve. More clearly marked paths and a south opening into Central Park from the area of Elmwood Insurance would help. This would allow access to the mobile postal unit from the businesses south of the park. At least the Elmwood Community Bank and Farmers State Bank could walk across and talk to each other. A symbolic suggestion of what we need in the coming days. This morning I saw clock and temperature working on FSB sign although top of sign was gone. Wednesday, June 16, 2010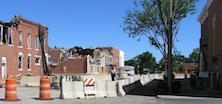 HELP RESTORE ELMWOOD

The City of Elmwood has established a fund to accept donations for the restoration of the town. Similar to the Tree Fund established by the City last year after the thunderstorm June 18, 2009 that destroyed hundreds of trees throughout Elmwood, the Restoration Fund will help the City rebuild their beautiful downtown and parks. For those interested in making a tax deductible contribution to the restoration of Elmwood, you can send a check payable to the City of Elmwood Restoration Fund, c/o Farmers State Bank, PO Box 620, Elmwood, IL 61529. For more information, contact Harold Jehle at 309-742-3711.
Help Rebuild the Palace Theater Fund
A fund to save the Palace Theater has been established at the Elmwood Community Bank.
The Facebook Group -- The Palace Theatre Lives On
The Facebook Group -- A Better Elmwood
-------------
Postal Service
Farmington Post Office is closed from 11 AM to 12 PM. Apparently our Mobile Unit is working the same hours as Farmington. I know this because after being Downtown for awhile I went to pick up my mail in Farmington the lobby door was locked when I got there at 11:04 AM. I decided to forget getting mail and came back to Elmwood to mail letters and purchase postage from the mobile Unit. After winding my way and probably violating barricaded areas I found mobile unit was closed, as well.
Insurance Issues
Richard Allender is a Supervisor for the Illinois Department of Insurance. If anyone has a complaint on how their insurance company is treating them or if they feel they are not receiving fair treatment from their insurance company, they should contact him.
217-785-4159
217-558-2083 Fax
dick.allender@illinois.gov
-UPDATED INFORMATION-
Many volunteers walked Elmwood this morning trying to get all residents to fill out a survey for PeoriaCounty. It will be used by the planning commission. A good response number will help us in grant applications. If you did not get you can open and print this pdf. It must be turned into Jordan's Mobil by Monday AM. There will be survey collectors at Elmwood churches on Sunday. Click for Survey Saturday 06/12/2010 2:32 PM
Business owners are advised to vacate their businesses by 3:00pm today. Wind gusts up to 40mph have been predicted to pass through Elmwood this evening. Tomorrow bushiness owners will have full access to their buildings. Tuesday June 8th
--------------------
Downtown Disaster Hot Spot
The downtown will become a disaster hot spot and be evacuated if winds gust to 15 mph or sustained of 10 mph. All buildings declared uninhabitable will be evacuated at that time. Monday June 7th
-----------------
Info below from First Week of Crisis
Waivered Workers must sign in
and out at Fire Station
Please Please Please
follow this very important rule
Thank You
----------------
Peoria County Health Dept. Recall
Refrigerated food purchased at Elmwood Food Store after the Tornado primarily Monday and Tuesday AM. Should be returned or thrown out.
The business community is trying to operate facing severe impediments to continue providing services for us. Many are operating from alternate locations. I am creating a link to a page of information on business operations.
You can no longer take debris to Sweet Water; it must go to County Dump.
City is not picking up residential refuse.
Whitney and Potts is handling waivers for building entry. Here are the rules. The owner must first obtain a waiver. The owner can then allow tenants and workers to obtain a waiver. Waivers must be notarized; driver license required. Before entering a property you must report to fire department; when done you must return and report you have left property. Waivers are specific to a property. Whitney and Potts is open at their office on West Main, although operating without electricity today.
There is a Dusk to Dawn curfew on buildings designated as uninhabitable. This is sensible since the most heavily damaged are with out electricity.
Elmwood UMC is a donation center for relief items, remember most damage in Elmwood was to business not residential property. Very few residents actually lost personal property. Donated items available for anyone who needs or can use them. Come down and look around.
Red Cross has ability to earmark money donations for Elmwood. Red Cross for Elmwood Illinois
All business owners and those interested will meet at Elmwood Elementary School at 6 PM Tuesday. This group formed because of meeting Monday night.
Elmwood City Water is Safe
City Water Plant has always been Operational
Water Quality in Elmwood is exactly as it was before storm and was safe during the entire crisis.